Sorting Data
You can sort databases as well as lists generated by graphs or the analyzer . You can sort by up to 3 categories (columns). Clicking on a list button

reveals a list of the column names. Select the column you want to sort.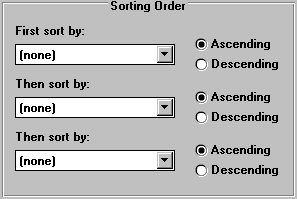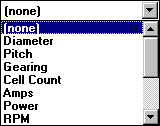 If a column only contains numbers, it is sorted in numerical order. Otherwise it is sorted alphanumerically. This means 10 comes before 2 in a column that contains letters as well as numbers. Choose ascending or descending order by clicking the appropriate dot(s)

.

Sort will sort according to your choices.

Cancel will return you to your (unsorted) list. The Esc key serves the same function.