Multiple Motor Configurations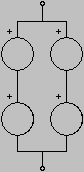 ElectriCalc allows you to quickly configure multiple props and/or motors. You can specify up to 15 motors driving up to 15 props. There are no restrictions except that each motor must see the same load. You could drive 2 props from 1 motor or 2 props from 4 motors. You can choose a multi-motor configuration by selecting Multi from the menubar by clicking it, by clicking the raised Motor Configuration panel, or by using the ALT+M shortcut key. First select the number of motors you want to use. The number of props will automatically change to the number of motors you select. If desired, now select the number of props you want to use. Finally, select the wiring layout you want to use.


Accept will transfer you back to the main screen with the new configuration entered there.

You can sort of understand the nomenclature if you read this as "4 props Ganged to 8 motors wired as Parallel units of Series strings of 2 motors."

Cancel will return you but leave the original configuration unchanged. The Esc key does likewise.