This article describes how to build a receiver pack that is a superior substitute for a 5-cell AA NiCad or NiMH pack for use in giant acale planes and other applications. This is discussed elsewhere on this site.
The pictures below show two cells removed from a DeWalt 36V pack. Disassembly instructions can be found here.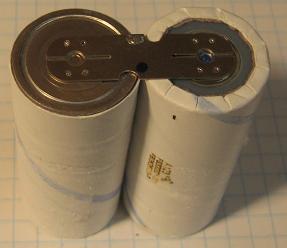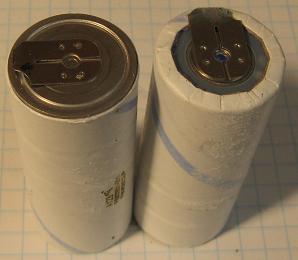 Here's how to build a pack: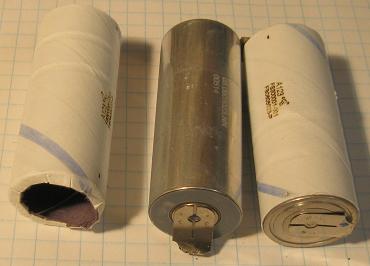 I recommend leaving the cardboard sleeves (do as I say not as I do).
You only save 0.17 oz. and risk serious grief if you're not careful.
OK, go ahead and remove ONLY ONE sleeve and replace immediately with shrink wrap.
It will probably not shrink terribly well. 1-1/2" is too small and 2" is too big -
plus the aluminum impedes the shrink process unless you warm it up first.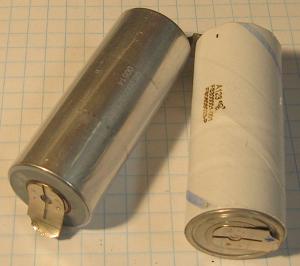 Clear shrink has been applied.
Try to get it to neatly overlap the edges, gently bending the tab out of the way.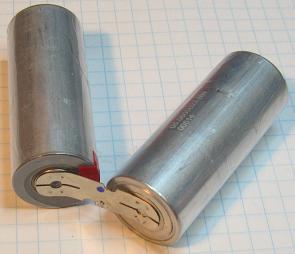 Both cells are now covered.
Note the piece of electrical tape for peace of mind.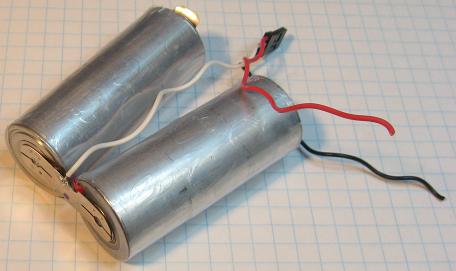 Use a heavy-duty servo cable for the balance/charge connector.
I swapped the red and white leads to keep the colors consistent.
Cut the cable to four inches and solder the center lead to the center tap terminal.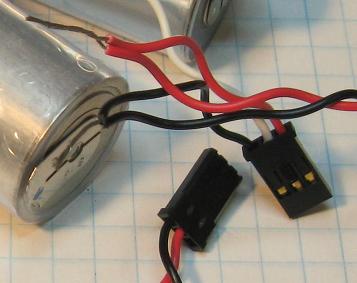 Cut the two remaining leads one inch past the start of the pack. Strip 1/2" from each lead. For the power lead, use a standard pack cable or a servo cable with the third wire removed. Cut this cable to your preferred length. Six inches is common.
Strip 1/2" from each lead and wrap black wires together and red wires together. Tin these wires.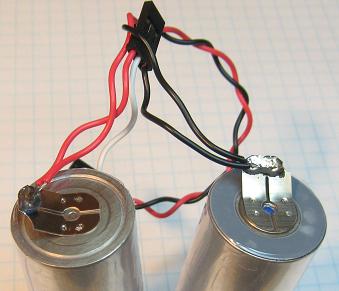 Trim exposed wire to 5/16". Tin the ends of the two tabs. Solder wires to tabs with cables toward center.
It would be good to verify polarity with a voltmeter. At a minimum, study the pictures. The positive [red] end is the case, unlike every other cell in my experience.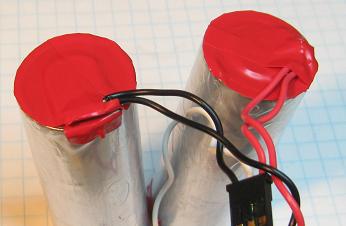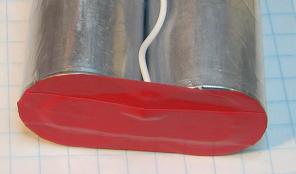 I use electrical tape to protect the terminals.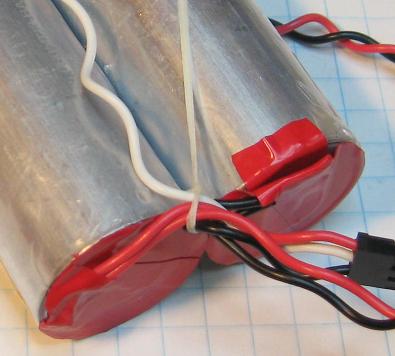 I use string to provide strain relief. Secure knot with a drop of CA.
Pull string to hold wires against end of pack and secure to cell with CA.
I finish the pack with clear shrink, I prefer the thin clear shrink sold by Air Dynamics,
but they don't have the best widths for these packs.
I use two 4"-wide pieces 1-1/2" long to cover the ends of the two cells.
Then I do another in the normal manner over both cells.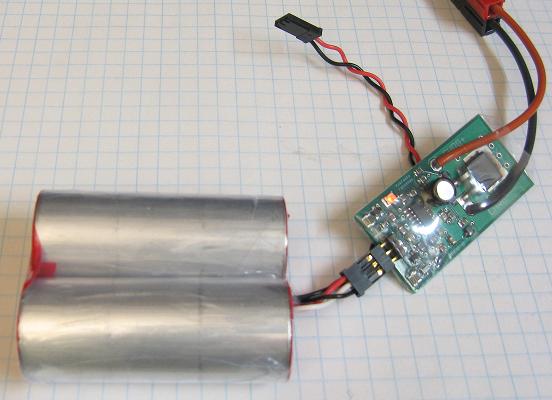 Finally, the finished pack!. Believe it or not, the pack is shrink-wrapped.
The pack is being charged and balanced by the new DapterRx.
It is charging the pack from a NiCad charger at 3 amps..